LARC Courtesy Cars
LARC in certain circumstances have available courtesy cars for customers while their vehicle is being repaired. There are a number of terms amd conditions and we advise customers to take out Excess Damage Waiver. Below is an example of the form.
EXCESS DAMAGE WAIVER (EDW)
VAT 729640808
EDW Number:
Name:
Courtesy Car Reg:
Incident No:
Date:

---

Protect Your Hire Car Excess
You may or may not be aware that this hire car is insured on your Insurance Policy, your excess (if applicable) is also transferred. In the event of an accident, or if the vehicle is vandalised whilst in your possession you will be responsible for another excess payment, therefore you will pay both your vehicle excess and courtesy car excess.
We can however protect you from paying another excess for a one off payment of £ ________ so in the event of another accident or vandalism we will pay the hire car excess on your behalf.

---

Yes - I wish to protect myself against paying another insurance excess charge whilst in charge of a vehicle loaned to me by Lichfield Accident Repairs, therefore wish to pay the Excess Damage Waiver ("EDW") fee shown below. I understand that if the vehicle is damaged while in my possession this payment of the EDW fee will cover the cost of my hire car insurance excess of £ _________ charge only and that the full cost of the repair less the Insurance excess will be claimed on my Comprehensive Policy. I agree that in the event of any damage to the vehicle it will be returned to Lichfield Accident Repair Centre. (Tyres covered also)

---

No - Thank you, but I do not wish to protect my excess on the hire car and understand that in the event of an accident or if the vehicle is vandalised whist in my possession I will be required to pay a further excess charge. (Tyres not covered).
Waiver accepted
YES / NO
Excess Damage Waiver Fee (Inc VAT) _____________
Payment Method
Cash / Cheque / Visa
Customer Name
____________________
Signature
____________________
Date______________
Receptionist Name
__________________
Signature
___________________
Date_______________
Delivery Driver
_____________________
Signature
__________________
Date_____________
Payment is required upon the issue of the Courtesy Car and cannot be backdated. This form must be completed at the time the hire car is issued.
EDW is Non – Refundable and cannot be claimed back from your insurance company
Courtesy Car Terms and Conditions
1. The Hirer is responsible for ensuring that only named persons within their existing policy are allowed to drive our vehicle during the loan period .
2. The Hirer is responsible for insuring the vehicle with Fully Comprehensive Insurance prior to and while the vehicle is on loan and must provide their insurance details on collection of the vehicle or in the event of a current insurance claim your own insurance will automatically be transferred on to our loan car. Your own excess will apply to our vehicle also. A Collision Damage Waiver can be taken out at the start of the loan period only. This cannot be back-dated.
3. The Hirer accepts that, irrespective of liability they are liable to make immediate payment for any loss or damage however caused during the loan and will indemnify the Lender against any claims or action, consequential or otherwise arising from the loan.
4. The Lender is not liable for loss or damage to property carried in or on the vehicle during the loan, and the Hirer is responsible for the safe care and use of the vehicle during the loan period.
5. The Hirer will return the vehicle within 24 hours on the Date of Return stipulated unless otherwise agreed in writing with the Lender.
6. A mileage of 100 miles per day is permitted, unless otherwise agreed with the Lender. Excess mileage will be charged at 10p/mile and payable on return of the vehicle.
7. The Hirer accepts any offences/contraventions arising from their use of the vehicle under Road Traffic Offenders and Road Traffic Regulations Acts, subordinate legislation and other authority regulation e.g. congestion charges, parking, use of bus lanes etc and shall indemnify the Lender accordingly. An administration charge may also apply.
8. The Hirer must contact the Lender immediately by telephone (01543 263377) in the event of an accident or breakdown.
9. The Hirer is not authorised to arrange recovery or repairs without the consent of the Lender.
10. The Hirer is responsible for the fuel and other consumables, and for the checking and maintaining levels and tyre pressures during the loan. Any additional fuel added is not refundable.
11. The Hirer must be over 21 years old and hold a full UK driving license which has been valid for more than 12 months.
12. Smoking and the carrying of animals is not permitted in the vehicle.
13. No Additional Driver is allowed at any time - (limited to own policy restrictions).
14. The vehicle must be returned in a clean condition inside and out – A cleaning charge may be applied
15. Tyre damage during the loan period is the responsibility of the hirer (Unless EDW taken up)
---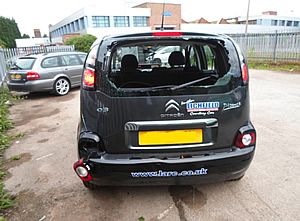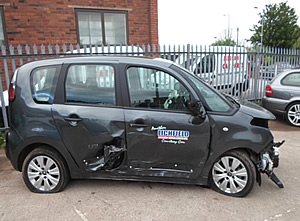 This customer did not take out an Excess Damage Waiver and had the unexpected cost of an additional £600 excess. (EDW costs £15 per £100 of your excess ).
As a valued customer to LARC, we want you to have the very best experience with us as possible...
For your protection and piece of mind whilst in possession of our courtesy cars, we offer an EDW service to help protect you against any damage caused to this vehicle, this extends to vandalism, third party damage and accidental damage.